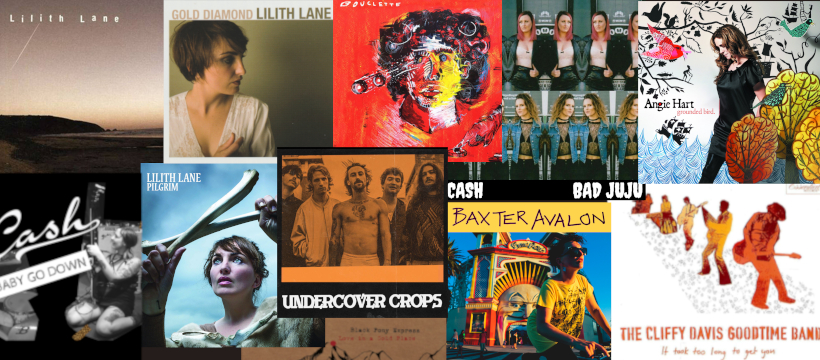 LILITH LANE…..
was born in Geelong (Wathaurang land), Australia, grew up in regional Victoria and has been immersed in the Melbourne (Naarm), music scene since arriving as a late-teen to the capital.  She is a songwriter who writes and performs in solo projects and bands.  She plays keys, guitar and sings, is a studio recording engineer/producer and founder of Venus Studios.
Lilith Lane has released 3 solo full band albums of piano and guitar based tunes.  Lilith also writes and releases under the moniker Baxter Avalon for her synth-pop songwriting project.  She is a member of Les Yé-Yé Girls, a 60's French pop band, and has toured in the UK and EU as a member of Black Pony Express (Beast Records) and the Cliffy Davis Goodtime Band.
Lilith is a session player and vocalist and has played keys on podiums at stadiums around the country for the Countdown Spectacular, has duetted with Tim Finn of Crowded House on national television show RocKwiz, and contributed vocals to projects by Angie Hart, Clinkerfield, the Ukeladies, Horsestories, George Byrne, the Devastations and others.
Les Yé-Yé Girls- 'Psycho Killer- cover' ♥️ live at the Labour in Vain, Fitzroy 2019
Baxter Avalon- 'Witness' 💕 features exceptional DIY special effects. 😜
Countdown Spectacular- Lilith on keys for Alex Smith's (Moving Pictures) 'What About Me' – Rod Laver Arena
Lilith Lane- 'I Could Get Used to This' 
She worked at Bakehouse Studios at the beginnings of her audio career in the mid-2000's as their first female studio engineer and has been an in-house engineer at Newmarket and Rollingstock Recording Rooms.
She produces other music-makers and has recorded, mixed and mastered artists such as Yolanda DeRose, Cash, Undercover Crops, Bruha Bee, the Fix Ups, Rosie Hayden, Glomesh and Bouclette. She is a specialist in vocal production as a producer with extensive performance and session vocal experience. She has assisted recordings for artists including Courtney Barnett, Kurt Vile, and Foy Vance.
She is a strong supporter of live music and occasionally mixes live bands. Pre-pandemic shows included mixes for Amyl and the Sniffers, Bitch Diesel, Private Function & Dicklord at the short-lived iconic Melbourne CBD venue Globe Alley (2018-2020). Lilith also works in music production education.